Campus Compact AmeriCorps VISTA Member in SLCE
Student Leadership and Civic Engagement, in partnership with the UIC Office for Community Collaboration, is looking for an AmeriCorps VISTA Volunteer for the 2021-2022 academic year!
Applications are accepted on a rolling basis, and a candidate will be selected as soon as possible.
Interested? Follow these steps to apply!
Summary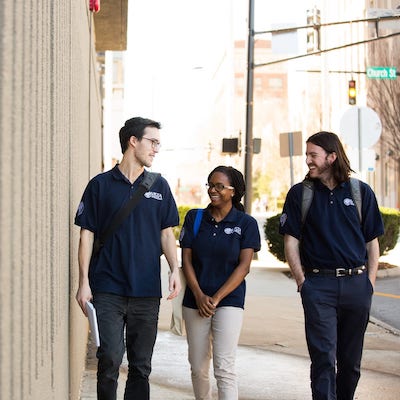 Working with Campus Compact to host an AmeriCorps VISTA, SLCE is looking for someone who can create a bridge between university departments/colleges and nonprofit agencies in all 77 Chicago neighborhoods, through the development of a centralized community partner database. Part of this process will include outreach to departments within all 16 UIC colleges, as well as to known community partners. The VISTA Volunteer will develop and implement assessments that measure UIC impact on nonprofits and the communities they serve, emphasizing educational needs in low-income communities. The VISTA Volunteer will develop new partnerships with additional organizations, especially in Chicago neighborhoods that face disproportionate hardships and with limited access to UIC. The AmeriCorps VISTA Volunteer will assume oversight of the Galaxy Digital service platform and support its use by community organizations and internal partners.
This position is ideal for a recent UIC graduate, someone who is looking to go into public service, and/or someone with database management skills. Please see the attached position description for more information. In order to be successful in the role, applicants will need to be motivated, detail-oriented, and able to manage their time and tasks without much oversight. They must be willing to ask questions, to provide research-based solutions, and be comfortable working with a diverse community. They will be working in a primarily-administrative role, but should able to engage and communicate with a wide range of individuals – faculty, deans and directors, community organizers, nonprofit directors, program coordinators, and community members. Additionally, someone comfortable with Excel/spreadsheet software and who has Excel Formulas knowledge will be most successful in this role.
Eligibility and Applying Details
If you are interested in applying, please send a cover letter and updated resume to VISTA Volunteer supervisor, Nikki Gottleib (Associate Director, Student Leadership and Civic Engagement), at gottleib@uic.edu. You will also be required to complete an AmeriCorps VISTA application here: https://my.americorps.gov/, though you can complete this application after submitting a resume/cover letter to SLCE as well.
Applications are accepted on a rolling basis, and a candidate will be selected as soon as possible. 
Eligibility Requirements:
Be 18 years or older (no upper age limit)
Hold one of the following citizenship or legal residency statuses: US citizen, US National, Lawful Permanent Resident (i.e. Green Card status), and persons legally residing within a state. Examples of persons legally residing within a state may include those holding the following classifications: refugee, asylee, temporary protected status throughout VISTA service, and holding Deferred Action for Childhood Arrivals (DACA) status.
Be willing, to the maximum extent practicable, to live among and at the economic level of the low-income people served by AmeriCorps projects. This position is an AmeriCorps volunteer role and is not salaried, though a living stipend is provided.
Understand that AmeriCorps members serving at VISTA projects serve on a full-time basis (35 hrs/wk). Members cannot be full-time students, though exceptions can be made for part-time coursework and/or part-time employment.
Strongly preferred: Hold an Associate's Degree or higher
Helpful Resources: