LeadershipUIC
A Transformative Leaders Program
LeadershipUIC is the pinnacle leadership capstone experience for students on-campus. Throughout the program, participants receive coaching from prominent community and business leaders and work collaboratively to find solutions to a current problem that exists around them. By clarifying their mission, vision, values, along with their own definition of leadership, this capstone experience allows students to reflect on their journey from exploring leaders to transformed leaders, while giving them the opportunity to craft a project portfolio that they can use as they begin to search for careers and other leadership positions.
Learn about the LeadershipUIC Experience: Heading link
Learn about the LeadershipUIC Experience:
FAQ
Who is LeadershipUIC for?
LeadershipUIC is exclusive to UIC students entering their final year at the university. These students must have two semesters of coursework remaining and have shown their commitment to being an engaged leader on-campus and in the community. Ideally, LeadershipUIC applicants are apart of a student organization, are a student employee, hold another leadership position, and/or have participated in one of SLCE's other leadership development offerings.
What's the time commitment for the program?
LeadershipUIC is a yearlong commitment. Beginning with an hour long orientation session taking place in August, followed by once-a-month sessions that take place from 12-3pm at an off-campus location. More information regarding tentatively-scheduled sessions can be found in the LeadershipUIC application.
How is LeadershipUIC different than other leadership programs?
LeadershipUIC provides participants with the chance to both enhance and then use their leadership skills in order to enact change at UIC. LeadershipUIC offers students one of the greatest returns on their investment – the ability to impact others in a positive way. LeadershipUIC participants have an audience with university adminitrators and are able to provide research-based suggestions for institutional change that can have a lasting impact at UIC.
How will my time be spent during LeadershipUIC?
Many sessions of LeadershipUIC take place off-campus at our partner sites. Participants will have the opportunity to meet with and listen from community and business leaders in the fields of education, healthcare, policy, and the arts. Throughout the program, students work on an assigned project and reflect on their undergraduate experience, while connecting it all to life after UIC.
What will this program look like for the 2021-2022 academic year, considering COVID-19?
We will be looking to have this program take place in person, though some sessions may involve a hybrid approach (including having guest speakers join virtually and/or having student presentations shared virtually). Selected participants will be informed during the in-person orientation of the format of the full program before they need to confirm their commitment.
Impact on Participants
Upon the completion of the program, students will have a better understanding of how to apply their UIC Experience to their lives after UIC. Utilizing their enhanced creative and adaptive leadership skills, these students will be well fit to manage any task or project that is thrown at them!
Ready to Join?
LeadershipUIC begins on September 17, 2021 and ends on April 8, 2022. There is a one-hour orientation held on August 27, 2021.
Ready to Participate? Join LeadershipUIC and apply at go.uic.edu/LeadershipUIC.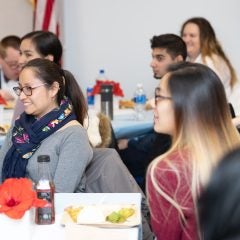 "This experience has taught me that all students have a voice and can truly make a difference in their community if they make that voice heard. It has also taught me the power in diversity and though it is great to find pride and identity in your own culture, we can all gain a deeper and meaningful perspective if we connect with those from different walks of life."

LeadershipUIC Participant, 2019-2020

|