Log Your Hours
Student Leadership and Civic Engagement defines community service for students as the process of engaging in volunteer activities without pay to help give back to their community. Students receive some benefit by learning more about how their service makes a difference in the lives of the service recipients and its impact in the community. (Furco, 1996).  This definition aligns with the eligibility requirements of the President's Volunteer Service Award.
Please keep this definition in mind when logging your service hours, and reach out to SLCE at slce@uic.edu or 312-996-4500 if you are unsure if your volunteer experience can be logged as service hours.
What counts as service hours?
Eligible Service:
Unpaid acts of volunteer service benefitting others

Service through National service programs that provide a stipend (e.g., Peace Corps, AmeriCorps) may count towards the Lifetime Achievement Award, but not for the annual Bronze, Silver, and Gold Awards)
Travel stipends, transit/parking passes, membership passes, expense reimbursements, and other nominal volunteer support do not impact service eligibility
If you participate in a service-focused student organization, you may count any hours that are spent organizing and implementing a service project. If you are in an organization that uses meeting times to discuss other student organization operations or business, you may not count those hours. You should also not include hours spent on fundraising specifically for the organization, recruiting members for the organization. Only hours spent planning and participating in a service project will count, and will need to be able to be confirmed and verified by a faculty advisor (not a peer or student executive board member).
Eligible Service does not include:
Donating funds
Political lobbying (Non-partisan voter registration is an eligible activity)
Religious instruction
Conducting worship service
Proselytizing
Volunteer service performed as part of court-ordered community service
Serving only family members
Personal improvement activities such as conferences and trainings
Service that directly benefits a for-profit organization
Service that promotes specific political or religious views
How to Log Service Hours
Follow these steps to log your service hours:
Log on to service.uic.edu using your netID and password.
Click the "Add Hours" button located in the top menu bar.
Enter "Hour Type": click "yes" if you are entering hours from an opportunity listed on the site, and click "no" if you are adding hours from an outside opportunity.
Add remaining information and click "Submit Hour Entry".
Logging Ongoing Service Opportunities
There are two ways to submit ongoing service: in real time (i.e., once a week, after regular shifts) or in larger batches at the end of each month or semester. SLCE will not be able to approve multiple submissions of small hourly incriments when submitted all at once – we can only approve those submissions on a weekly basis. If you forgot to submit your ongoing service or prefer to submit at the conclusion of the month or semester of service, you should submit your hours all in one batch, with details about your ongoing service in the additional information sections of your submission. Please make sure to select your EARLIEST volunteer shift for the submission as the date of service (i.e., 4/7/21 for weekly shifts on Wednesdays for the month of April). See the below screenshots for guidance.
Service Hours Submission Example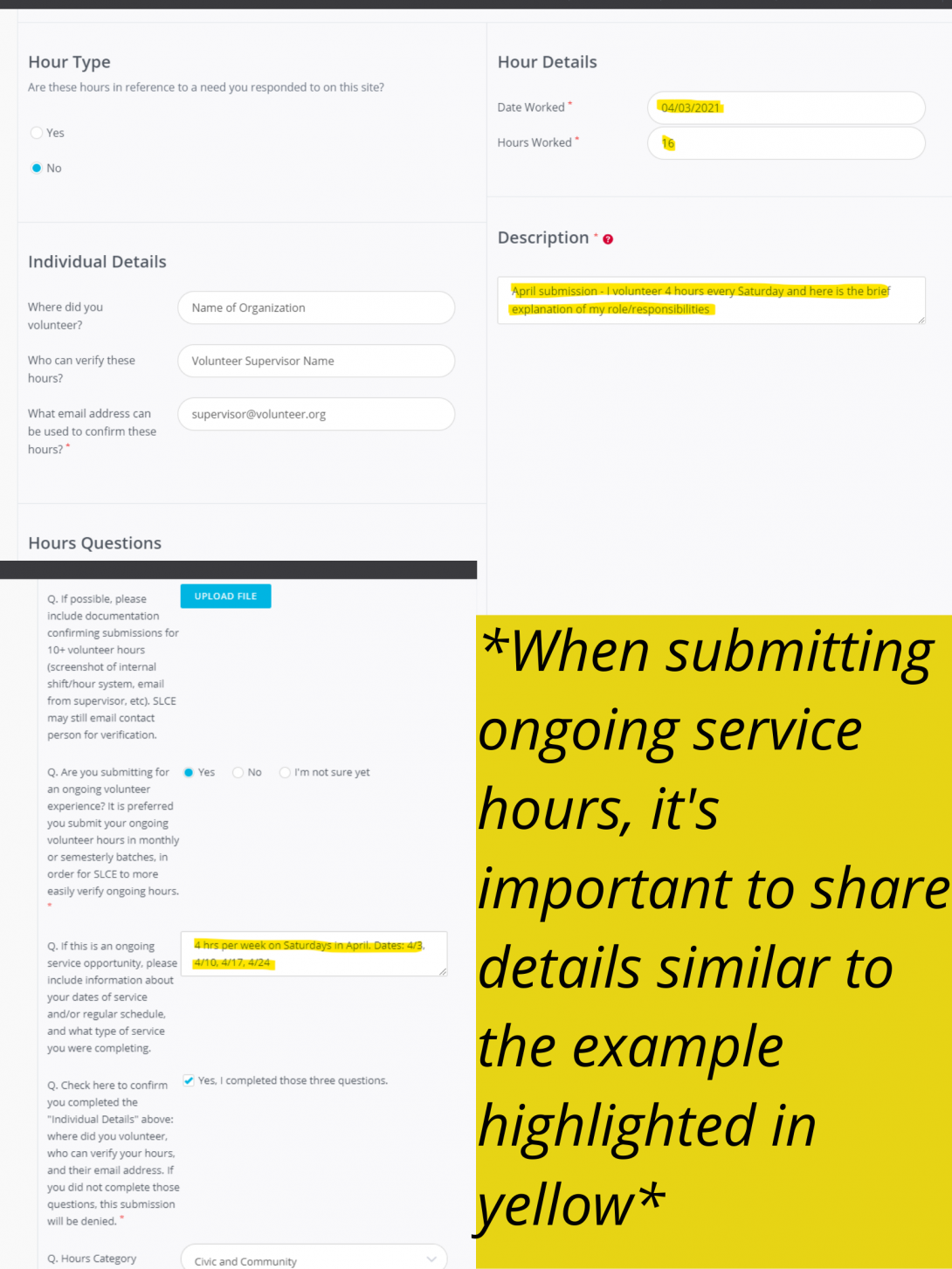 You may also choose to submit documentation with proof of your service, preferably for submissions of 10+ hours. This is not required, and SLCE will still review and verify all eligible submissions, but can aid in speeding up the approval process if possible.
SLCE may deny service hour submissions if we do not receive enough information about the service opportunity, including contact name and email, service organization, volunteer hours and/or regular schedule, and what type of service you were completing.
President's Volunteer Service Award Eligibility
Students who log 100 or more hours during the academic year are eligible to receive the President's Volunteer Service Award and may be recognized in that year's Chancellor's Student Service and Leadership Awards Ceremony. For these purposes, SLCE marks the academic year as starting on July 1 and ending on June 30 the following year. To be recognized in the year's CSSLA Ceremony (typically held mid-April), hours must be submitted no later than April 1 of that year. Hours submitted after that date will still be applied toward the national President's Volunteer Service Award, but will not be able to be honored during the UIC ceremony.
Current 2020-2021 Submissions: We are currently accepting submissions for volunteer dates between July 1, 2020 and June 30, 2021. 
Hours that are submitted for volunteer roles held in past academic years may still be approved and processed, as they can be applied toward potential eligibility for the Lifetime President's Volunteer Service Award (PVSA), but they can no longer be applied toward an annual PVSA.
For more information about the President's Volunteer Service Award, please visit slce.uic.edu/service/president.