LeaderShape Institute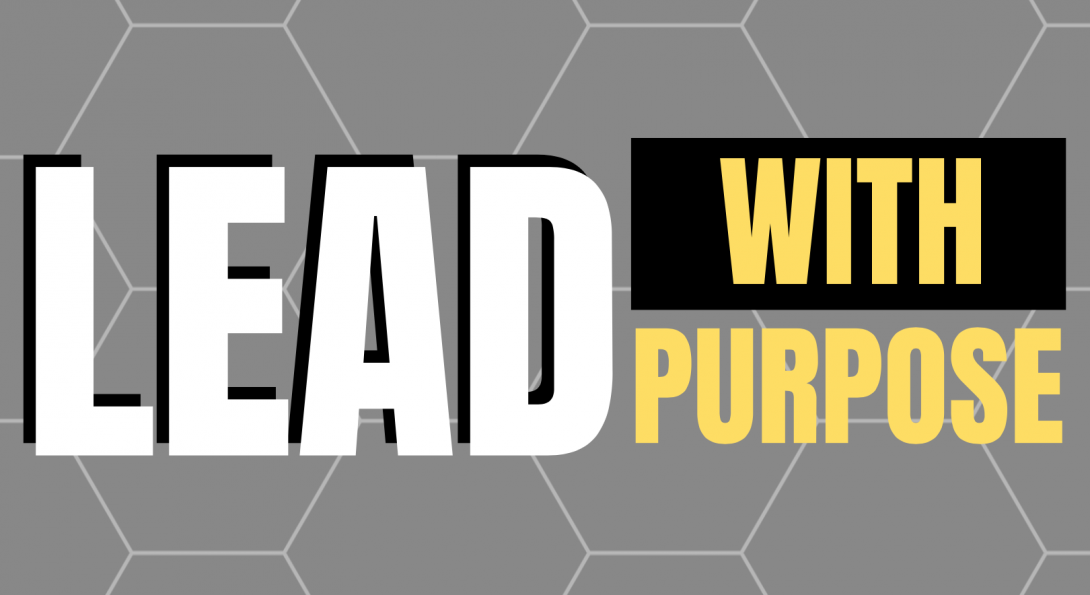 A Transitional Leaders Program
The LeaderShape Institute is a four-day, three-night off-campus experience challenging participants to lead with integrity while working towards a vision grounded in their deepest values. Participants explore not only what they want to do, but who they want to be. Dynamic, challenging, and exciting, the week is intended to produce a breakthrough in the leadership capacity of participants—benefiting them individually, as well as their respective communities and the organizations they will go on to lead and serve in the future.
Save the date for the return of the LeaderShape Institute, May 12 through May 15, 2022! For more information and to apply, check back at the start of the Spring 2022 semester.
2019 LeaderShape Institute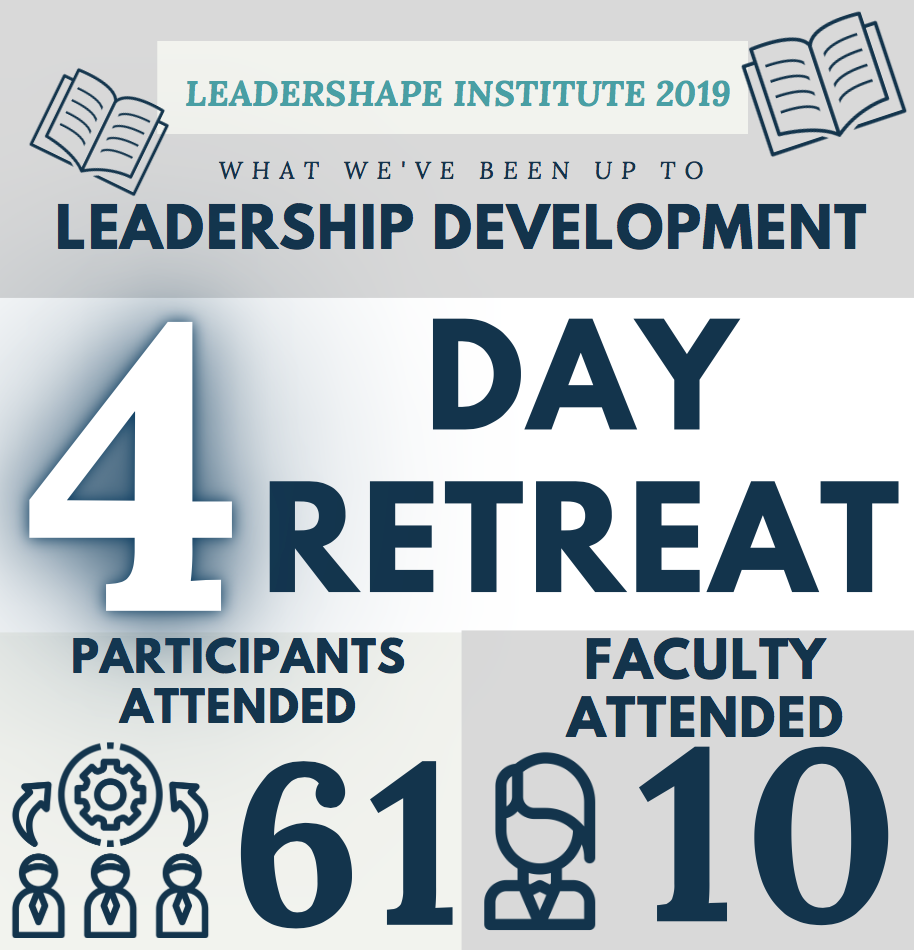 From May 11-14, Student Leadership and Civic Engagement hosted the 2019 LeaderShape Institute, a four-day, three-night retreat where 61 UIC participants gained valuable skills and inspiration on becoming a leader. Students were taught visioning, relationship building, and the importance of leading with integrity.
With 61 UIC students participating in the annual LeaderShape Retreat and 10 faculty guiding our conversations, we were able to create a solid cohort of individuals who developed their leadership skills.
Our 4 day retreat consisted of fun teamwork exercises and thought provoking dialogue that helped instill a camaraderie amongst each cluster family. It was a joy to see a diverse group of people strengthening their skills as leaders and we can't wait to see how they each change the world for the better!
Thank you to all the amazing students who participated!
2018 LeaderShape Institute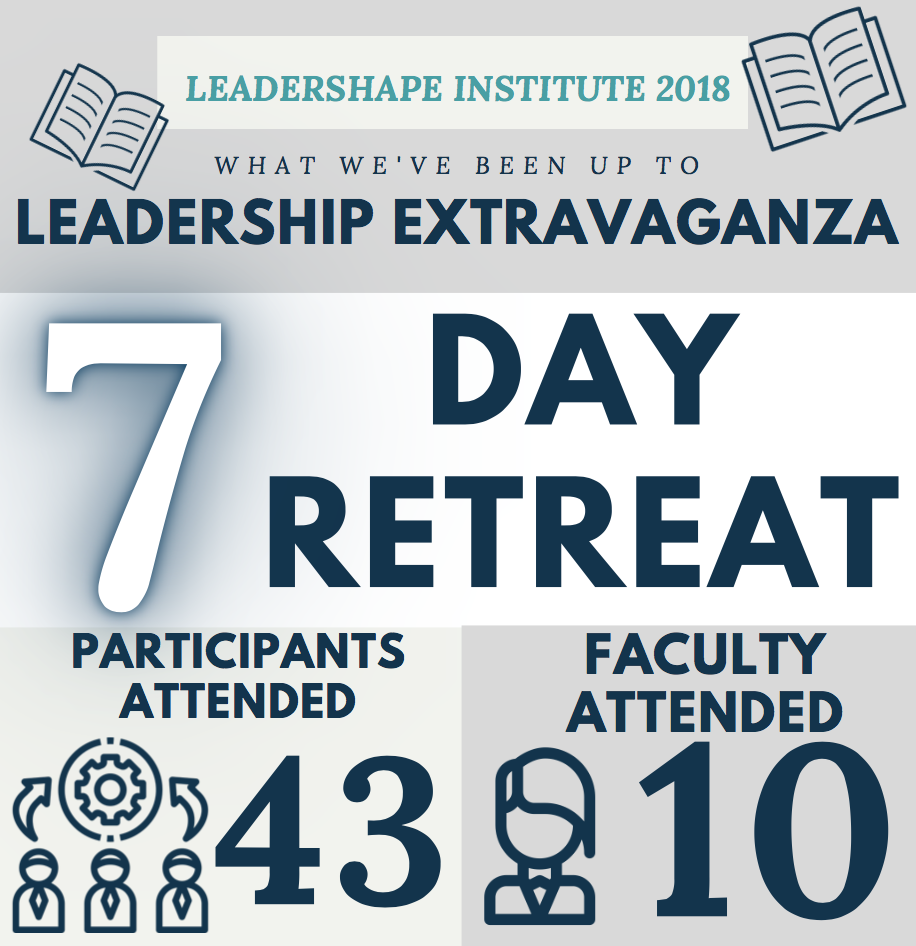 With 43 participants and 10 faculty in attendance at the annual LeaderShape Institute retreat, we were able to explore what it means to be a leader and how to utilize those skillsets once it's achieved. Students were taught visioning, relationship building, and the importance of leading with integrity.
Our participants were grouped in their cluster family and each cluster was able to bring out the strengths of each individual and provide support where needed. The week long retreat created a solid family of motivated individuals ready to make positive change in this world.
Even though our time was short, we were able to create lasting relationships that propel our participants to do greater things.
Student Leadership and Civic Engagement would like to thank everyone who participated! It was great to see everyone grow and be proactive leaders.
Four days of dialogue and self-discovery in a supportive learning community.
Learn about our Leadership Retreat:
FAQ
Who is the Institute for?
The LeaderShape Institute was created for individuals who are committed to taking their leadership to the next level and who want to make a significant impact on campus, in their communities, and in the world.
How is the Institute different from other conferences and residential programs?
Everyone who attends the Institute engages in the same activities and contributes to the same conversations. While the involvement of the individual is honored and expected, everything during the Institute is approached with a sense of community. Everyone is viewed as a learner and as a teacher. This belief is evident as the community is created through the contributions of everyone at the Institute, with time spent in meaningful conversation serving as its foundation. Unlike conferences, participants don't only leave the retreat with a few tips and ideas. Graduates of the Institute experience a breakthrough in their leadership capacity.
How will we spend our time during the Institute?
Everything in the curriculum is anchored to four themes: community, inclusivity, integrity, and vision. Therefore the work that we do during the retreat is tied, in some way, to these concepts. We participate in large group activities, in small group exercises, in conversation with one another, and in personal reflection. We set out to discover our most deeply held values and greatest passions and how they can come together to give our lives and work purpose. We learn how developing a vision and plan of action can create lasting change. We reflect on how our personal styles and life experiences influence our leadership and our relationships. Those who graduate from the Institute leave as an agent of positive change in the world.
(LeaderShape, http://leadershape.org/Institute/FAQ)
Where does the Institute take place?
UIC's LeaderShape Institute is held at the Loyola University Retreat and Ecology Campus (LUREC) in Woodstock, Illinois. For more information regarding the facility, visit https://www.luc.edu/retreatcampus.
How much does it cost to participate?
Lucky for you, the LeaderShape Institute cost is covered by Student Leadership and Civic Engagement. Meaning, your transportation, housing, and food will all be provided to you at no cost. The only thing we ask is that you remain committed to attending upon submitting an application.
Impact
"Sharing the impact of the Institute™ experience is tremendously valuable to LeaderShape®​. It gives voice and meaning to the experience of each individual who participates in this program and those impacted by it. When looking at results, we conduct both internal and external reviews of the Institute™ on an annual basis.
The experience of participants at the Institute is what helps create change in the world. When participants have a positive experience, they leave with the knowledge, confidence and skills to make an impact. Every participant who attends the Institute™ is asked whether the session was a valuable experience in developing their capacity to lead. Our historical average is "6.40" on a 7-point scale with "7" representing that they "strongly agree" with that statement" (LeaderShape, 2019).
Join
The 2022 LeaderShape Institute will be held at the Loyola University Retreat and Ecology Campus (LUREC) in Woodstock, Illinois from Thursday, May 12 to Sunday, May 15, 2022.
Check back at a later date for information on how to apply for the 2022 LeaderShape Institute.