Leadership Book Club
Join the SLCE Book Club and attend monthly virtual Book Club meetings to discuss the book of choice for the semester, focused on leadership, service, and/or civic engagement.
Fall 2020 Book Club details shared below. To request to join the Fall 2020 Book Club, please email slce@uic.edu by September 13, 2020. 
Learn about the Leadership Book Club:
Learn about the Leadership Book Club:
FAQ
Who is the Leadership Book Club for?
The Leadership Book Club is for any student at UIC, looking for a minimal time-consuming commitment with SLCE. Students who register for the Book Club will be able to pick up a copy of their book for the semester, and then will join virtual meetings once a month to discuss the book based on preset a reading schedule.
What's the time commitment for the program?
The Leadership Book Club is a semester-long commitment, but meetings are only held once a month for an hour each. All meetings will be virtual, so students who commute should be able to participate without having to stay on campus beyond their class schedule.
How is the Leadership Book Club different than other leadership programs?
The Book Club is a new program, as of Spring 2020, that provides students with the opportunity to engage with leadership concepts through the writings of a diverse set of voices and to do so in a virtual setting. Other leadership programs that require a semester-long commitment also typically require on-campus attendance, so this is a great opportunity for students looking to engage without too much disruption to their schedule.
How will my time be spent during the Book Club?
Students will expect to participate in virtual discussions during the meetings each month, based on having completed that month's reading requirements. Reading occurs on the students' own time, and discussions will be facilitated by a SLCE staff member or Peer Leader.
Impact on Participants
Upon completion of the program, students will feel better connected with the UIC community, gain a working knowledge of leadership terminology, and have a better sense of how others view leadership skills and values.
Ready to Join?
More information regarding the Fall 2020 Leadership Book Club book, registration, and schedule to be shared at a later date.
Fall 2020 Book Club Details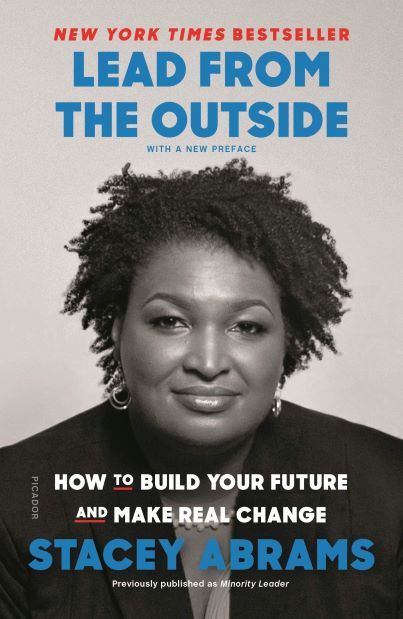 Fall 2020 Book Club Details
Book Choice

The Fall 2020 Book Club book will be Lead from the Outside: How to Build Your Future and Make Real Change by Stacey Abrams. Students who choose to participate in this program will register via email (slce@uic.edu) by September 13, 2020. 

Books will be ordered for all participants, and details on how to receive the book (whether picking up on campus or shipped directly to the student) will be shared via email.

Book Club Meetings

Fall Book Club Meetings are as follows:

Wed, Sept 30 at 8:00pm – Introduction (Preface is optional, as older copies of the book do not come with this)
Wed, Oct 21 at 8:00pm – Chapters 1-3
Wed, Nov 18 at 8:00pm – Chapters 4-7
Wed, Dec 2 at 8:00pm – Chapters 8-9

Links to the virtual meetings will be shared with participants via email.