Leadership
Student Leadership and Civic Engagement believes that leadership is the process by which individuals facilitate positive social change. Anchored in the Social Change Model of Leadership Development, we believe that everyone can lead and create positive change at UIC and in the greater community. Our programs and workshops provide opportunities for students to explore and discover their personal style of leadership, while building skills to help them succeed in their academic and professional lives. We emphasize the connections between individuals, groups, and community, and focus on helping students link their passions to a greater cause.
2019 LeaderShape Institute
Want to discover yourself as a leader or strengthen your leadership skills? Register for the LeaderShape Institute, a four-day, three-night retreat that teaches you visioning, relationship building, and the importance of leading with integrity! Taking place from May 11-14.
Apply
Social Change Model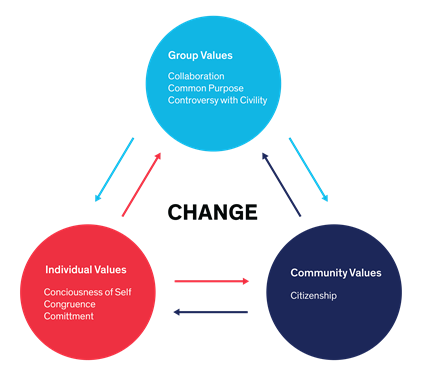 The Social Change Model was built upon the following assumptions:
Leadership is concerned with effecting change on behalf of others and society.
Leadership is collaborative.
Leadership is a process rather than a position.
Leadership should be value-based.
All students (not just those that hold formal leadership positions) are potential leaders.
Service is a powerful vehicle for developing students' leadership skills.
The Social Change Model approaches leadership as a purposeful, collaborative, values-based process that results in positive social change.
Source:
Higher Education Research Institute. (1996). A social change model of leadership development (Version III). Los Angeles: University of California Los Angeles Higher Education Research Institute.